Ontario is not only seen as the most varied cultural city in Canada but also the biggest food destination. Toronto stands as one of the worlds most diverse cities in terms of offering top-notch cuisine. You will be able to find cuisines from all over the world to indulge in with the city's own unique touch incorporated into the menus.
Since 2015 Toronto has been booming with new restaurants and café's opening around every corner. With the diversity of ethnic neighbourhoods throughout the city, almost any cuisine imaginable can be found when taking a stroll through the streets.
Toronto is also famous for having some of the most vibrant food festivals each year.  Food tours are also offered by multiple companies that provide visitors with the chance of exploring the wide variety of restaurants, café's, and bistros in the province.
Some of the most vibrant culinary events to attend include Taste of Asia, Taste of Little Italy, Toronto Rib Fest, Summerlicious, and the Winterlicious festival, which takes place annually.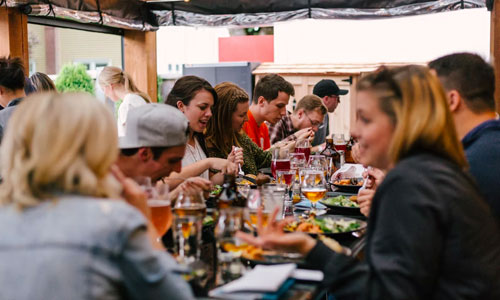 Food and restaurants are not the only factors that make Toronto stand out as the most popular food destination in Ontario. They have a wide focus on brewing and wineries, drawing international attention and providing tourists with a great experience of the local beverages.
With a vast number of breweries comes exciting annual beer festivals showcasing the most popular beers that are locally brewed. The Toronto beer festival is an annual event and showcases all the local craft beers and breweries. Some of the most well-known breweries in Toronto include Ace Hill, Bellwood's Brewery, and Indie Alehouse.
Street food is seen as a major attraction for tourists visiting Ontario and Toronto, with many vendors around every corner. Food trucks selling internationally known meals are in abundance with popularity providing their touch into these well-known meals.
Toronto is famous for a variety of special meals and dishes, including Peameal bacon sandwiches, east Indian roti's, Pablum, and the famous Toronto cocktail. Indulge in a large variety of cuisines available in Toronto.